A facebook friend who, I believe, is not a Holy Cross alum, commented on the decision of that university to distance itself from the Crusades via its mascots and sports identifier:
We castrate and bid the geldings be fruitful.
I suppose a comment like that could go either way. When the institution speaks of …
…the culmination of a discussion we as a community have been undertaking for several months. Many of you participated in this discussion through submitting thoughtful and informed feedback via our website, letters, and emails or through campus listening sessions. Thank you for your input; it was immeasurably helpful in informing our deliberation.
I tend to trust that. To be sure, some look upon such a change with dismay. Tradition and all. A sense that a culture might be able to change its mind about things tainted with evil. Things like slavery, murder, robbery, or the like.
Various comments on the Catholic Right lament the move. I don't think most are associated with the college and possibly few participated in the feedback period. Depending on the year and the offended group, maybe the Crusades don't have a 100%
approval rating among the orthodox Christian faithful. For example, it might be interpreted that the Fourth Crusade led to the weakening of Christianity in southeastern Europe. A few centuries later, that  would be a boon for Islam as it was embodied in the Ottoman Empire. Subtract Crusade #4 and maybe a lot of suffering would have been avoided in future centuries in the Balkans and parts of Asia Minor. Are we geldings to point out that at least one Crusade weakened Christianity? Was Pope Innocent III playing the long game to let Muslims overrun the Byzantines, with whom he happened to be in schism?
The Crusades had wide-ranging negative and positive effects for the whole world. I'm sure more skilled historians can conquer those arguments. But my question is why Catholic schools can't be more thoughtful of their mascots. Most schools present themselves to the public not as bastions of learning but as outposts in the Religion of Sport. Colors and cartoonish characters are often in our mind. Even those not associated with schools can cite their color schemes and identify the human or animal (or less commonly, the vegetable or mineral) adopted as an institutional symbol.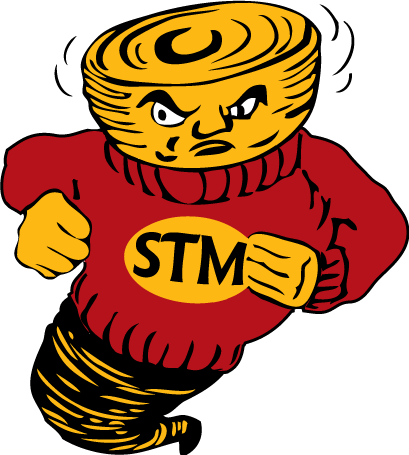 I remember one parish I served whose patron was a saint known for knowledge, learning, and martyrdom. For some reason their athletic teams adopted the cyclone as their identifier. It always baffled me. Iowa State University was hours away, yet the colors and mascot were a match. Thomas More is a saint revered for many things, but the connection to meteorology simply isn't there. (Nor really, is the visual connection to a cyclone–what is pictured on the right is a tornado, not a large-scale weather system.)
What if Catholic schools broke from the imitation of secular entities and adopted things like qualities instead? Courage, justice, persistence–these are qualities to which any athlete or academic can aspire.
Let the Jesuit school in Massachusetts keep their purple and adjust their rendering of crusade, crusaders, and the like. I don't think there's anything for which to apologize in this effort. Some might say it doesn't go far enough. Or, if two sides seem to retain some unhappiness about it, maybe it's on the right path.