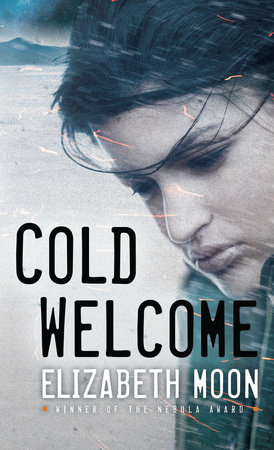 Earlier this week I finished Elizabeth Moon's Cold Welcome. Ms Moon has one outstanding book that's graced my bookshelf. I enjoyed the series that followed her strong female character through a series of military adventures in space, though I found it to be a notch or two below the outstanding The Speed of Dark.
The new book, the first in a new series that follows the talented and intrepid Ky Vatta, might be a level below that.
It's not that the characters aren't well-developed–they are. For the first half, the novel is well-plotted as a survival story in a polar ocean environment as winter arrives. A hodge podge of a few dozen military people from different cultures/planets and service branches (space, planet-bound) have to bind together to find land, shelter, and food. Mid-book, they stumble onto a secret military base and that produces complications as traitors emerge from amongst the survivors. In addition, there's the emergence of a threat from a power or powers of unknown strength and intent. A book about survival shifts to a race to prepare for military conflict. And thrown into the mix are hints about aliens existing before humans developed space flight. This last thread leaves a lot of questions that don't get resolved by book's end.
Overall, I found the novel disappointing, though it was an enjoyable read in terms of the characters. That a whole continent would be a mystery on a planet with spacefaring capability? That doesn't fly. Forests, airfields, and buildings are easily detected with early 21st century technology. Magnetic anomalies and a determined military can't keep secrets like this for decades.
Throwing a mongrel blend of people together for a survival story–that's handled with excellence. There's something of a deus ex machina in the escape from danger. Then the actual rescue struck me as anti-climactic. As a stand-alone adventure, this story didn't really need to be science fiction. It could have happened in Antarctica today.
As part of a larger narrative, I'm sure all the science-fiction elements that seemed peripheral will make sense in books two, three, four, etc.. But that's part of the problem with publishers insisting on multi-book series. But maybe the notion of a single story, neatly wrapped up in less than five-hundred pages is beyond the present.