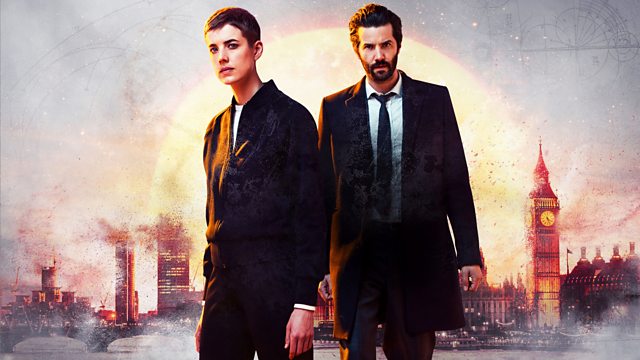 As I've encountered streaming series on hulu and amazon, I notice there's a lot of boundaries pushed beyond what's been aired on cable networks. Some of those boundaries are plusses–telling a story over a period of twelve hours, give or take. It seems like a lot of streaming tv providers are exploring good literary works. In speculative fiction, Philip K. Dick and Margaret Atwood have been personal favorites. Some are not really plusses, including the gratuitous sex and violence.
But consider me unimpressed with what seemed to be a promising concept handled in a very derivative way, BBC's Hard Sun.
If the series creators wanted to do something derivative, they might have done better to tackle a classic, like Isaac Asimov's Elijah Baley (imaged, left).
As it is, Hard Sun is a poor knockoff on the X-Files, a science-fiction-y take on a Big Government Conspiracy. What made the original work so well was the tension-plus-respect between its leading couple. The new series tries to sow suspicion within the law enforcement world, and the viewer gets a sense of everybody for themselves. More on that later.
BBC has done fabulous work with its crime series revolving around Inspectors Morse and Lewis, and others in the Masterpiece Mystery orbit as seen on PBS. So there's a bit of that with this new series, but the mystery is less in the crimes and more with the big conspiracy. In the first two episodes I viewed, the detective work was another notch below other British police procedurals.
The science fiction premise is that at the show's beginning, there are five years before something happens to the sun and human life on Earth is extinguished. Maybe there's a way to tell if solar output can be extrapolated to such a precise level that merits a countdown. But I don't think 21st century humans have that. A person stares at a sun on a flat screen with moving numbers and computer "art" at the peripheries: not impressive. Maybe in Britain where the sun isn't seen every day, there's some way to tell the sun is producing more energy. From what we know about stars, the premise is nearly impossible given today's understanding of physics. And if, as the series suggests in its first two episodes, the sun is gradually increasing output, the countdown to five years is meaningless. Things will get very bad by years four, three, or even two.
The program's biggest flaw is a Mel Gibson indulgence for cruel violence. In two episodes, Agyness Deyn (and better of the two lead actors by far) gets into three serious beatdowns, mostly losing two while her male partner limps away from his one. These filmmakers could take lessons from people like Hitchcock who could inspire a sense of dread and malice without being so obvious about it. When a braintrust handles women in film so weakly (it happens more often than not, network, cable, or whatever) I have to wonder about some of the personal indulgences that leak out of the fictional narrative.
BBC has done much, much better. The weird science has been done much better–if a series can't untie the straps of X-Files sandals, why bother? And for good science fiction, take one idea and develop it. This show feels more like an indulgence for violence against women and for cramming too many "brilliant" ideas into too short a space. But there are all the film shots of the sun.