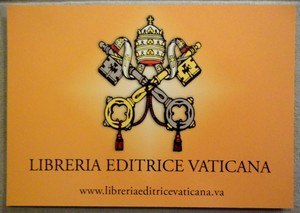 The Vatican publishing house offered a free book this week. Strong In The Face Of Tribulation is like a small library. Andrea Tornelli offers a four-page introduction. He states the purpose of the volume:
(A) little help offered to all, so as to know how to discern and experience God's closeness and tenderness in pain, in suffering, in solitude and in fear. Of course, faith does not eliminate pain; ecclesial communion does not eliminate anguish. Rather, it does illuminate reality and reveal that it is pervaded by the love and hope based not on our abilities, but on the One Who is faithful and never abandons us.
I looked over the pages, less than two-hundred. They are divided into three sections. The first is liturgical, and describes "The Prayer of the Church in Difficult Times (the universality of intercession)." Here, the editors have assembled Pope Francis' prayer before Saint Peter's Basilica, followed by the Prayer for Liberation from the Epidemic to Our Lady of Divine Love.  Next come excerpts from the Orders of Blessings–most parishes have this book.  Prayers from the tradition of local Churches closes out this first division. Everything here is for both liturgy and devotion.
One prayer that stood out for me was this one penned by the German Jesuit Rupert Mayer:
Lord, what You will let it be so
Where You will there we will go
What is Your will help us to know

Lord, when You will the time is right
In You there's joy in strife
For Your will I'll give my life

To ease Your burden brings no pain
To forego all for You is gain
As long as I in You remain

Because You will it, it is best
Because You will it, we are blest
Till in Your hands our hearts find rest
Till in Your hands our hearts find rest
The least useful is the second section which answers the question, "What if I can't participate in the sacraments?" Local pastors and bishops have already addressed this query by now. There are mostly official documents here: How to receive the grace of the Lord when unable to participate physically in liturgical celebrations, some comments on forgiveness of sins, a Decree of the Apostolic Penitentiary on the granting of special Indulgences to the faithful in the current pandemic, and spiritual communion. Given that Holy Week has already passed, I wondered about the inclusion of the Decree of the Congregation for Divine Worship and the Discipline of the Sacraments regarding the celebration of the Easter Triduum. Historical value? Hopefully not a preparation for 2021.
The editors have collected the Holy Father's various messages from March 9th to April 19th: Homilies, Angelus and Regina Coeli and other talks and writings–these take up the last two-thirds of the book.
Some images are also included: I approve of this decision. I think the book in print medium would make this even better.