My wife asked me tonight that besides disgusted, how was I feeling today. I said, "Thoroughly disgusted."
This news item, of course. File it under: just when you thought American law enforcement couldn't get more stupid and incompetent. Talking about biting (or shooting) the hand that feeds you. The innocent man killed used to provide free meals to police officers. He was, of course, black and, of course, unarmed. Body cams turned off. Of course.
People who know me I'm very reticent about firing people–speakers, teachers, and the like. And yet, the Louisville police chief getting the pink slip today didn't faze me at all. Fire police officers, and keep firing. Just don't fire at them. Preferably no fire from them, either. They don't seem to know how to use rubber bullets. I'm totally against any use of weapons in this time of unrest. Even by the police.
Liverpool footballer Virgil van Dijk shared the image of teammates kneeling in support of BLM: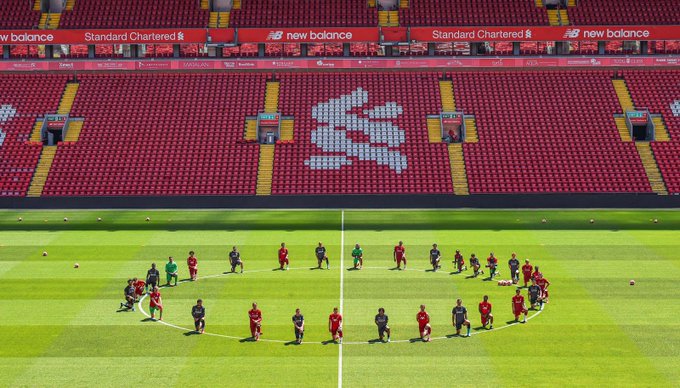 I think athletes on this side of the Atlantic will do well to imitate this when we re-open. And I doubt anybody is going to lift a finger, raise a voice, or fire anybody who does so. People taking a knee are going to have a lot of company in the months ahead.