Over at Where Peter Is, a small back-and-forth on the worth of a parish mission in response to a comment of mine:
From your wife's last point, it sounds like you need a good old parish mission!

That will not help if it only lasts for a while …

The whole point of a parish mission is to engage and inspire, starting with a parish audit, and the people do the preparation before the mission team arrives, then carry on the work afterwards. If that doesn't happen, then as you say, "it only lasts for a while …"
Exactly right.
So many ministers who long to engage people miss the importance of the hand-off. Old-time Catholicism got it right pretty often. Church devotions led to dinner. Dinner built community. Communities gathered for Mass. After Mass, people congregated. More devotions, dinners, confession, and other aspects of cultural Catholicism. We criticize it, idealize it, and even make fun of it. But it worked.
A parish mission today can still work. But only if it is followed up with small groups, maintaining the message at Sunday Mass for a few weeks, or developing some options for community activity in the days and weeks that followed.
A campus ministry colleague inherited a substantial retreat program at her new parish. It was well-attended, well-reviewed, and attracted much support from older students, alumni, and others. She realized it was insufficient. The testimony was that many attendees came home on Sunday on a spiritual high. But then it was back to class Monday morning. Roommates and hallmates going out drinking and such Monday night. The luster quickly dulled before students returned for Sunday Mass next weekend.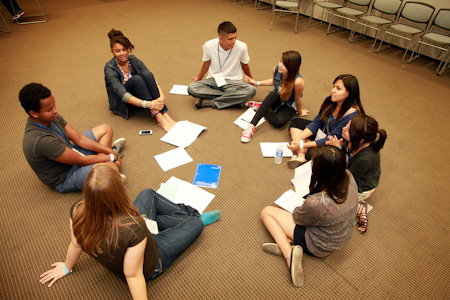 Retreats for new students were designed, and the key to their big-picture effectiveness was handing them off to small groups. Mid-semester retreats continued, but always with the eye to engage them within a few days of the event ending.
In my first parish as a professional, the pastor would set up a parish mission, then take the week off. I had never experienced that previously. The mission speaker shared with me that some clergy treated the mission this way. The hand-off was for vacation, and it was back to normal. No change in the parish set-up. One mission began to look much like any other. And over the years, attendance slipped.
Parish engagement is hard work. It's not letting someone else do the work. It's not about wiping one's hands once a big event is done. If a mission, concert, workshop, or even a good social event has no hand-off, the opportunity will soon be lost.