So, the country falls short of its new president's 70% goal. In the heady post-war fifties, there would be a lot of trust in the science of the day. Some conservatives just don't want to get on board, or the more sensible are just waiting to see what happens. People of color are skeptical, and given the linkage of racism and health care in the US, why wouldn't they be?
I'm sure that insurance computers suggest that offering bonuses and lottery tickets is cost-effective. It just looks desperate to me. I suppose the president can present an image of calm–maybe this is needed. I think individualism and indifference has taken over in the last seven decades. And who benefits from that?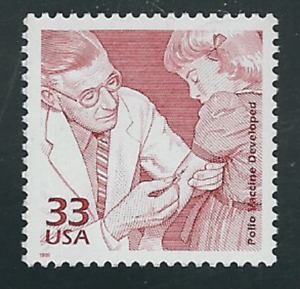 This 1999 US postage stamp has a retro look to it–rather unlike the brightly colored issues that have flooded our mailboxes since the late 60s when the USPS really opened up the paintbox.
Maybe someday they'll have conquest of coronovirus issues–stamps, coins, or even mobile phone cases. Not quite there yet, are we?