Books by women astronomers haven't exactly been on a bookshelf in my home–I've been reading them on my phone. It's not a withdrawal from a pandemic world as much as the delightfully wide access my e-card gives me to libraries across the region, not just in my county of residence.
Sara Seager's memoir, cover imaged left, was an enjoyable read last month. Her area of expertise is atmospheres of planets orbiting other stars. Her title references the extreme difficulty of actually seeing planets orbiting other stars. Like our sun's planets, they shine by reflected light.
I've seen her excellent TED talk and read a bit of her research. The gist of her specialty is teasing out the gaseous components of these faraway exoplanets. How is that important? If we find oxygen that might be a strong signature of life. Methane is another encouraging possibility too. Meanwhile on other planets, she and other scientists have detected steam and even metals so hot they have turned not only molten, but exhibit to our instruments as gases.
She weaves two parallel narratives in chronological order: her experiences in the world of astrophysics, and her very personal autobiography which includes the loss of a beloved husband on the heels of the death of her father. She admits her struggles as a widowed single mom and a woman battling sexism and the competitive arena of modern science.
Professor Seager is an excellent teacher; the science is easily digestible. As for her personal life, unlike some memoirs, she doesn't gloss over her own stumblings in social relationships. Maybe it borders on tmi at times, but I appreciate the honesty. It shows the human person behind the world-renowned scientist.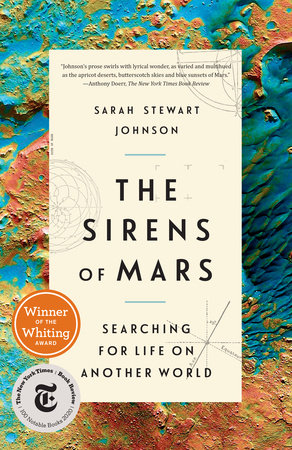 This month, I'm reading Sarah Stewart Johnson's The Sirens of Mars. I was hooked from the introduction. Professor Johnson's writing is simply luminous, like a star.
Planets are also her specialty, but those in our own solar system. Particularly Mars.
There are elements of memoir here, her experiences as a student and scientist and in between. She also manages to relate the history of the human curiosity about the fourth planet. This includes not only the historical figures associated with Mars, people like Percival Lowell and Carl Sagan, but also much of what motivated them in their lives–their personal and professional achievements and the stories behind them.
In the author's own lifetime, she accompanies us through the recent era of Mars exploration from 1997 as a student and full-fledged scientist. You can travel with her to outposts around the third planet–Arizona, Siberia, Australia, and even Antarctica and join those who study life in harsh conditions to assess if or how life could survive on Mars. Through all this, the reader gets a clear picture of the motivation of a scientist for the search for knowledge and a deeper understanding of the universe. Science skeptics could do far worse than take a walk with Professor Johnson.
I recommend both books. I would say these are especially good for a young woman in high school or college who is seeking a role model, or who is looking for insight as to what lies ahead for a woman in science. Obviously, anybody interested in astronomy would enjoy these books. If you have time for just one, go with the sirens for the writing just a bit more literary. But you can't go wrong with either one.