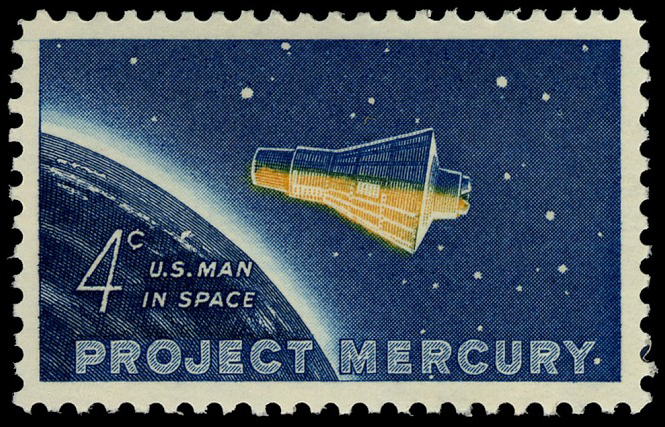 When I was doing a little research on USPS and those sun science stamps the other day, I ran across this story from the Smithsonian National Postal Museum. Intriguing because it was my favorite stamp as a young boy. That was some years after John Glenn's first American space mission in orbit on 20 February 1962. But I still had a few of these stamps in my bedroom desk.
The Post Office Department issued a stamp honoring this event with a historic event of its own: the Project Mercury Issue became the first US postage stamp to be issued on the same day as the event it commemorated.

The Post Office Department, NASA, and the Bureau of Engraving and Printing agreed to the special release provided it occur under "strict security precautions." This called for unusual circumstances for the stamps' creation. Operations that normally occurred via letters now took place face to face. Charles R. Chickering, a Bureau of Engraving and Printing designer, took an annual leave and designed the stamp from home. The stamp engraver did not go to work during normal hours, but instead worked in the office at night to finish the engraving for the postage stamp. The completed stamps were transferred underground and sent to 301 postal inspectors in sealed boxes. Only after NASA recovered John Glenn and declared his mission a success were the inspectors told by telephone to turn over the boxes to the postmasters. Hence, for the first time in history, a stamp was released on the same day as the event it was commemorating.
Colonel Glenn's mission was a huge risk at the time. Perhaps more of a concern with a rocket that didn't have a stellar record of success. I can understand the PR catastrophe if the astronaut didn't return safely.
I loved the stamp's look for its mellow blue and the light shining on the space capsule. Where the sun appears on what seems to be the nightside of the Earth–that looks to be an error. Still, the overcall composition is nice even if scientifically inaccurate.