How did singer-songwriters compose songs in the 1970s? Noodle a bit on the guitar or piano, then add the words in later. It was kind of an impressionistic thing with that method: see what mood hits and try to fit the words.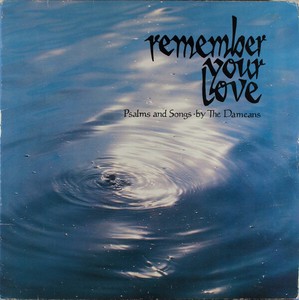 One problem for liturgy is that the texts of the Psalms for Mass don't easily fit into metered music. If a musician wanted to make life a bit easier for the singer, stanza two would have to be retrofitted to align mostly with stanza one. And so on. And since the Missal permitted this, most composers took the option.
Contemporary musicians had been writing psalm settings–often paraphrases–since the early post-conciliar days. But I'm not aware of any collection mostly dedicated to Psalms until the Dameans' 1978 collection.
Their approach aligned with something even more basic than common responsorial psalms–the common refrains listed in the Lectionary (#173) This table is from Felix Just's website:
The Dameans hit most of these. Some of their songs utilize texts outside of the Psalter (likely the "songs" portion). Even those with the given refrain. The composers weren't always faithful to the wording of those refrains either–which is something of a mystery to me as there's no real reason not to compose to suit these texts.
Still, for parishes not singing the psalm this might have been a good step forward. Would a collection with word-for-word texts been helpful at this time? Doubtful. Many psalms, if not most of them, only get one turn every three years. A prolific composer like Alex Peloquin or Ted Marier can produce a body of work to stretch for a three-year Lectionary cycle. How long did they take to assemble a final collection? Year, I would surmise.
Maybe a consortium of composers could have tackled such a project, but the liturgical music groups of the late 70s and early 80s were not generally working units. Publishers likely didn't see the need to push something like this, either. Bishops certainly not–there was more noise among leading church musicians of the 70s to produce a national hymnal. Even GIA with its organ/choir heavy tradition was emphasizing "hymns of the day" more than psalms. For Worship II and the People's Mass Book, psalms looked like an afterthought. Sure, they were provided. Really creative musicians could do something with Joseph Gelineau's and other settings to give them more life. But my psalm experiences at "organ Masses" were not edifying. At least at a monastery, there was the unison chanting of the Office Psalms.
Next up: Owen Alstott's napkin.