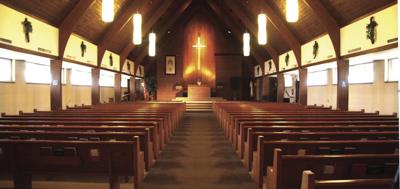 "Something has changed." At least according to Fr Bryan Massingale. US Catholic piece here.
In 2008-15 I served in campus ministry. It felt more alive than the suburban parish I left. Would I notice a lower percentage of Catholic young adults? Not really. The excitement from people who had experienced good youth ministry in parishes and/or a Catholic high school culture kept things at a high pitch. And if the university bolstered its undergrad population by a thousand or three every year, I didn't notice a drop in percentage unless I crunched numbers. And I was often too busy to crunch.
Then I went to a periphery, as Pope Francis might describe it. A suburb of Seattle? someone asked. Not really, I would say. Lots of retired military. Lots of Pacific peoples, especially Filipinos. Lots of Latinos. But not lots of energy, especially to address the reality that the US Census told us we had as many Latin American people in the county as those from the Phillipines, Guam, etc.. Except for kids, not the numbers. Our faith formation numbers from Spanish-speaking households were about the same as from English-speaking. Often a jump in generations, though. It was the retired folk bringing their grandchildren to church.
I … noted that the profound disappointment, outrage, pain, and sadness felt by so many in 2002 demonstrated the depth of love and concern … people have for the church. Apathy or indifference, I argued, would be far worse signs for the church's future. Paradoxically, the outrage that so many felt was a silver lining that showed how so many cared very much about the welfare of the Catholic Church, its faith, and its members.

Something has changed since then. There is a different tone in the questions. Now, the deep disappointment expresses not deep love but exasperation. A kind of anger that is not a prelude to deeper engagement and resolve but rather the step before resignation. As I listen to my audiences, there is a growing sense that church leaders, especially the bishops (and too many priests), are not only unwilling to hear their concerns but incapable of giving them a respectful hearing.
What are these concerns?
(The) complex issues concerning human sexuality, systemic racism, or political discernment—and of repeated dismissals, lack of response, or a questioning of their faith and loyalty to the church.
I now find myself back in suburbia after more than a decade. After plugging the archdiocesan synod at Mass this weekend, I spoke with a parishioner who had been tagged by a colleague as a potential group leader. No thanks, after I asked about the commitment. My friend was looking for something more, something that was the next step. Not the institutional agenda of synodality.
I worry. I think we might be fifty years too late on this. Synods, as the one Pope Francis is concluding in 2023 would have been great in the 1970s. But we were full of ourselves then, weren't we? We had Vatican II. We were riding an American Catholic crest of well-being and well-doing. Parishes springing up, especially in the West and South. We were privileged, rich, fat, and very, very satisfied. We have fallen very far, and the sad thing is that many leaders don't even recognize it. They are too busy circling the wagons for politics' and ideology's sake. 
An "optimistic" conclusion I'm not too sure about:
Just as in 2002, people's deep disappointment with the church reveals a deep love. Except not for the church. For Jesus Christ. Unless the church begins to understand that its purpose is not to defend its institutional prerogatives and boundaries but to proclaim the life, death, and resurrection of Jesus, then people's hunger for Jesus will lead them to look elsewhere to satisfy their longings.
If we're lucky it will only be the Church. I know people tempted to just check out totally from religion. What's the term? MTD? You don't need a personal God for that association. Just some god somewhere out there, looking down on us from a heaven light years away.