Today's observance in the Roman liturgical calendar is the man thought to have authored the third Gospel and the account of the first century Church known as the Acts of the Apostles.
The image, left, is from the Grandes Heures of Anne of Brittany, early 16th century. The icon of the Blessed Virgin, and the symbol of the ox presented with the saintly author in such a charming way.
When I was in grad school I wanted to take the course on the Psalms. It was no longer being offered, but the dean, a fine Scripture scholar, was teaching one on Luke-Acts. I liked him, and I had a basic Biblical background from being raised in a Protestant household and a good undergraduate course on the Old Testament. I shrugged and signed up for it, thinking that if I had chosen a larger school with more breadth in the teaching staff, I could have had the psalms. But I've always been glad I chose that course. If someone were to ask my counsel for the false choice of taking one and only one Bible course for a graduate degree in ministry, I would say study the Gospel of Luke. Would I give the same advice for a liturgist or church musician? I think I would.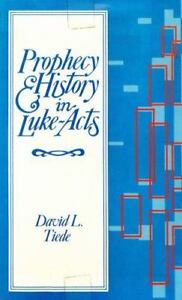 I remember a significant unpacking of Luke 4:16-30 early in the course. It totally changed the way I looked at the Bible, at considering Jesus in the Gospel narratives, and seeing Biblical authors not only as theologians but also as artists presenting a drama with meanings within meanings. After this course, suddenly every Sunday Gospel proclamation begged to be broken open, reflected upon and allowed an influence in my life over the next week.
David Tiede's book (right) was a favorite in those formative academic years. Lately, I have gone to Loretta Dornisch's book (left) for preparation for parish Bible study. I confess I don't keep up with the very latest in Bible commentaries. Perhaps my readers, few as they may be these days, have favorites that have worked for them. If so, please offer suggestions.
So many wonderful themes in this Gospel: the Holy Spirit, women, Mary, prophecy, and these days m ost importantly: mercy.
What passage from Luke is on my mind today? This:
"Master,
now you are dismissing
your servant in peace,
according to your word;
for my eyes
have seen your salvation,
which you have prepared
in the presence of all peoples,
a light for revelation to the Gentiles
and for glory
to your people Israel."