That's a rhetorical question, by the way.
Almost as heralded as the Hallmark Christmas Movie event is the release of seasonal stamps by the US Postal Service. If they ever get to your little house in the country, that is.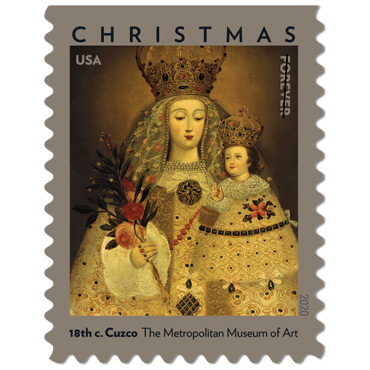 A social media friend thinks little of the depiction of Our Lady of Guápulo on the sole religious-themed offering of 2021.
My friends south of the border are more informed on this than I, but while this is associated with Our Lady of Guadalupe on wiki or meta or whatever the web is calling itself today, it doesn't strike me as strictly in that tradition. Virgin and Child have a separate lineage as a Christian depiction, older than San Juan Diego.
So we have a 300-year-old Cuzco-Peruvian painting hanging in a US museum.
Any other sightings of a war on Christmas? I noticed non-religious stamps numbered 14. Four gaudy decorations like ugly sweaters, six animals, two scenes of trees, and two red barns. I liked the rabbit stamp most of the "winter" scenes. The good news on the 2021 series is that you can still use those nature scenes to send thank you notes for the fruitcake and other gifts received.