People lobbied the US Post Office for Christmas issues for a long time. After the feds acquiesced, they found themselves with a boon in stamp sales. Some citizens criticized the honoring of a religious holiday. Others complained that there was no religious element; so far through the sixties, it was all about Christmas decorations. The citizen's advisory committee, however, unanimously recommended a change for 1966. Perhaps the previous y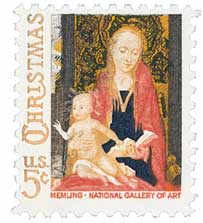 ear's angel set the stage for Mary and Jesus in the 5th year of the series. Would you have chosen the 15th century painter's depiction?
A few curious things about this. Hans Memling started life as a German but most of his artistic career was in the Flanders. The religious theme was popular, and for the first time, the Post Office duplicated the issue the following year, though on a larger stamp showing a bit more of the painting. See the comparison with 1967 here.
The full painting can be viewed here, from the National Gallery of Art in Washington DC. Obviously, too much to put on a postcard, let alone a stamp. The full description is here:
In the tradition of his Flemish predecessors, Memling's painting contains a wealth of religious meaning; it is filled with symbols which explain the importance of Christ's mission on earth. Jesus reaches out for an apple, emblem of Original Sin; his attitude of acceptance foreshadows his future sacrifice on the cross. The angel who offers the fruit of redemption is in fact dressed in a dalmatic, the liturgical vestment worn by a deacon during the solemn High Mass. Around the arch is a carved vine of grapes referring to the wine of the eucharistic rite. On the crystal and porphyry columns stand David, as an ancestor of Christ, and Isaiah, one of the prophets who foretold the Virgin Birth.
Lots of Catholic stuff; no wonder they showed so little of the whole.